Notes and interviews for the Leadership Council of the Parliamentary Review, by Paulamaria Blaxland- de Lange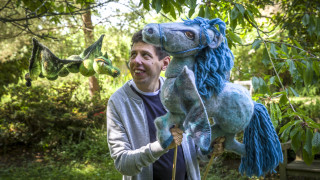 There is in Sussex a unique, vibrant and innovative project for the development of the arts and crafts, taking its impulses from John Ruskin, Rudolf Steiner, William Morris and the British arts- and crafts- traditions. Working with the artists is a small group of adults with special needs, who have been funded by Social Services to work in the Pericles arts and craft-workshops in West Hoathly, in the theatre-projects and professional stage-productions, in traditional woodland-based craft projects at two Bio-dynamic farms in the area: Old Plaw Harch Farm in Sharpthorne and Tablehurst Farm in Forest Row, and in the Organic Café and Community Centre in Sharpthorne.
To have special needs is never easy. Despite many improvements in social provision, hygiene and medical care it is still not easy.
We live in a time when intellectual prowess and technical innovation have created enormous advantages for people. But people with special needs, who experience life in a way that we often cannot imagine and who do not receive any recognition for either their inherent social skills nor for the riches of human understanding that their plight calls forth - are now facing ever new and greater challenges.
It has been stated that Society be judged by the way that the weakest are cared and catered for. The question of weakness is here a moot point. Also the question whether any group or state can "give someone a basic human right" (and take it away again!), rather than see to its protection or safeguarding, is rarely considered and English common law which could be an example here for the rest of Europe or even the world is increasingly eroded by European laws or American models, however well meaning.
In terms of fast production or high fashion those with a special need cannot keep up. In terms of technical innovation they often, (but not always) have little to offer themselves, although their special needs have often brought about remarkable discoveries made by those around them, both in social, cultural, as well as scientific terms.
It may come to some as a surprise that those parents and carers whom I asked about their lives with children/adults or elderly with special needs have without fail recounted how their lives and they themselves have changed through this experience and how they would not have had it otherwise. Most of these people with special needs brought something into their carers' lives that they could not quite find the words to describe, and to the carers it seemed clear that not only they themselves but their whole surrounding had benefitted.
In a period of development where smaller profit through slow needs- based human activity has often been replaced by fast financial speculation and huge debts, it is not a surprise that those with a special need - who teach us patience, love, care and the need to listen and an appreciation of working with our hands - are side-lined and, when ways for cutting spending are being sought, have their funding reduced or taken away.
The wealth generated through the activity of millions of people, (both those needing and those providing care) is thereby vastly reduced or even cut, followed by the inevitable redundancies, reduction in paid taxes and wide spread unhappiness with its resulting ill health and social disruption, bringing about far greater expense than has been saved and which is to paid for by significantly fewer tax payers.
One could wonder what this time we live in will be remembered for: the vast innovations in the physical sciences or the loss of questioning about the meaning of life.
This small group of people with a special need have over the last 14 years been working and training at Pericles to help maintain and develop traditional handcrafts and woodland skills in small settings in various Sussex locations. Renewed interest in beautiful hand made things and funding from Social Services that allowed those with a special need to learn and work alongside artists and crafts masters made this work possible.
As a result of the present financial crisis new ways need to be found to supplement funding from Social Services with sponsorship from businesses that are interested in sponsoring those with a special need to continue to be able to take part in this training and work.
If – as is suggested and already coming into place – funding for those on the margin of Society through no fault of their own, will be withdrawn, many people will have no work, little or no meaningful activity and no daily friendship possibilities in situations where they can be understood and appreciated for the many gifts they bring, gifts that cannot be translated into financial gain without support and sponsorship.
The onus for care will be on the "community", but in our cities and towns it has become increasingly clear that those with special needs are often little understood or appreciated and since the cuts and their media coverage, have even had to experience an increase of abuse, some with tragic consequences. People easily become isolated and lonely, falling through the net without regular social work updates on how they are or worse: becoming homeless and more vulnerable to abuse, criminal influences and falling foul of the law. This is a terrible loss not only for them but for us all.
Without continuing support the remarkable work done in these work- and training-places in the realm of the Arts and Crafts would lose its viable foundation and important achievements in the social and artistic realm by a team of gifted people including those with a special need would fall by the wayside.
We hope that businesses will feel called upon and able to support and sponsor this work and the people with special needs concerned.
Paulamaria Blaxland de Lange
Pericles.org.uk
Ps. These lines were penned before the lockdowns . While much of this still stands, we live in a time that is different in a way that was not foreseen all those months ago.
Thoughts and feelings that were still taken for granted are now questioned. Thoughts and feelings that were not acceptable are now widely and openly shared.
Many business have collapsed ; new businesses thrive. Many people have lost their jobs, many billionaires have been created.
Neighbours, families, friends have fallen out with one another, both wanting to protect the other and themselves by adhering to divergent procedures and outlooks.
The way we care for the most vulnerable members of our societies, shows the human values of our governments, citizens and also of our time.
How we carry this out is determined by what we understand when we speak of the human being; of the human being in relation to him or herself, to the other, to nature and to the divine.
Anthroposophical Social Therapy has seen it as its task to create sanctuaries, environments with beauty, warmth and understanding. Inner sanctuaries and outer sanctuaries, where these relationships of self with other, nature and the divine can take place and grow to become a healing for the soul, the body and the spirit.
Human physical, soul and spiritual need lies at the basis of all community- and environment- building. Rudolf Steiner describes how, when human beings do not have these needs fulfilled in their lives, this results in vengeance from the spiritual world in the following generation after their deaths, creating wars and disasters. (See lecture one: The Driving Forces behind Europe's War, Dornach 29th September 1917 in The fall of the Spirits of Darkness, Rudolf Steiner Press).
People with a learning difficulty through their needs make it very clear and easy to see and understand the raison d'ètre for this kind of therapeutic community and environment building.
They provide the need and the seed for true cultural impulses: demanding research, clarity in thinking, self-development, practical insight and empathy. And it is these that are needed in our time, not euthanasia.
Surveillance Capitalism: The Fight for a Human future at the new Frontier of Power by Soshana Zuboff outlines in masterful strokes the hindrances to this in our time. In page 489 she refers to this need of sanctuary in our time: Now, hiding is also invoked by Big Other and its market masters, whose reach is far and deep as they install themselves in our walls, our bodies, and on our streets, claiming our faces, our feelings, and our fears of exclusion.
In the far past – if an individual did not remain within what was set and considered right behaviour for the tribe– he or she had their face painted white and was henceforth ostricised. No one was allowed "to See" this individual.
In our time in theatre and circus there is an echo in the character and being of the clown.
The question of mask as symbol has a long history, women feeling safe wearing their niqab or burquas; people feeling offended or afraid by being confronted by a masked person, people feeling safe from contamination, the clown's face, the carnival mask, the Comedia del Arte masks and masks in theatre from all over the world. Then there are the non-material masks as Karl Koenig describes. The mask specializes a particular aspect. Part of us remains hidden, is kept back. We were given a mask once when we were excluded; now we increasingly feel feared and distrusted if not wearing a mask. Our humanness is curtailed. In Greek Theatre very special masks were worn through which the actor could amplify his voice and temporarily relinquish his humanness to portraying a Divine Being.
Now our divine being is masked, overlaid by the temporal, the machine and artificial intelligence, material wealth and comfort, fear, doubt and war. We are losing our privacy, our sanctuary, our most inner being and individual freedom, we are increasingly ostricised if not going with what is set as acceptable behaviour, ostricised by not wearing the mask of convention etc.
But cracks are everywhere appearing in these masks, even technology itself can bring these to the fore as with facilitated communication. The very human illnesses coming out in our time are showing the path of renewal and healing, not through a going back to spiritual and soul practices from the past but through clear thinking and inner discipline, warm hearts and joy-full responsibility.
We need all the help that could be available for this work. To gather in the name of the Christ rather than the Antichrist will give us the help we will urgently require. May we have the strength to distinguish.
Paulamaria Blaxland-de Lange
Paulamaria is founding director of Pericles, chairman of ACESTA, (Association for Care Education and Social Therapy out of Anthroposophy) representative in the Council for Inclusive Social Development in Dornach, and member of the STAG (Social Therapy Working Group) and ECCE (European Co-operation in Curative Education and Social Therapy)
The law can open doors but not hearts.
I look for laws that make me equal, not the same.
As human beings what is not the same in us is vastly super-ceded by what we hold in common.
We live on an Earth that provides and celebrates diversity.
As human being you and I may have a different gender, a different nationality, a different ethnicity, a different environment, a different ability or disability, a different language, but first of all we are both and equally human.
How can we create social forms and laws that recognise equality in a diverse world?
When will we no longer need to stand up for minorities? But stand up for and provide laws that encourage, celebrate and honour all and every one of us, nature and life itself?
Once upon a time… What will our story be, will there be ears to hear it?