Ruskin Mill Educational Trust documents and publications
A selection of newsletters and other material published by RMET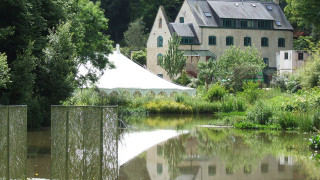 Ruskin Mill Trust Staff Newsletter
Dear colleagues
One of the new areas of development within the Trust is the consolidation of the support and quality assurance services provided to each centre of operation. This re-thinking has been in development for several months and was brought into discussion last November at the first part of the Trustees' Annual Strategic Review. During the next few months, both the Trustees and the Executive Team will be working hard on shaping a more conscious and well-defined supporting services structure – currently termed the 'Ruskin Mill Civil Service' - and we look forward to sharing further details with you in due course. An important element of this will be developing a new relationship with the Trust's research and training arm. As the Trust matures as a research-based organisation, the results of staff members' Masters, PhDs and other research assignments will increasingly contribute not only to the delivery of PSTE but also to the 'Civil Service' itself, in order to improve the Trust's agility and capacity to deliver contemporary understanding, language and evidence of PSTE, embedded and delivered alongside all aspects of compliance. Kimberly's successor as Chief Operating Officer will have responsibility for overseeing and coordinating this key task.
Meanwhile the trustees have concluded a number of key discussions regarding next year's strategic plan:
Each year Trustees and senior leaders meet together at the Annual Strategic Review to take stock and plan the Ruskin Mill Trust Group's strategic aims and direction of travel for the years ahead.
In 2020 the event was due to be held over 2 days at the Trigonos Centre in North Wales but, due to Covid restrictions, it was held at the Field Centre on two separate days. The first part was held on 18 November at which the Trust's strategic aims were debated and agreed.
At the second, on 8 February, the focus of attention was on reviewing the Objects (the purpose) of the charities that make up the Ruskin Mill Trust Group to bring them more in line with the Group's strategic aims and direction, debating the structure of what is now being referred to as the Ruskin Mill Ecosystem – the inter-connected network of Ruskin Mill organisations that is made up of Ruskin Mill Trust Group, the Ruskin Mill Land Trust Group, and Ruskin Mill's various research, training and higher education services and initiatives – and working on the development of a Ruskin Mill 'Civil Service' to serve the whole of that Ecosystem. The result of the day was a set of recommendations that will be presented to the relevant Boards of Trustees for approval.
The Trust has also been considering the need for an additional specialist Land Trust to hold the land and property used by Ruskin Mill Trust's schools. You will be aware that the Trust has been gifted valuable land and resources to develop Ruskin Mill Trust's schools and these gifts have contributed to the Trust's strategic growth over the last ten years. Ruskin Mill's Land Trusts are separate from the operations but play a vital role in their success, ensuring that the schools, colleges and care centres have high quality facilities, including land, gardens and woods etc. which are held and managed in accordance with Ruskin Mill vision and aesthetics. Work is underway to prepare a new company for the purpose of establishing a Ruskin Mill Schools Land Trust which will be registered as a charity in due course.
The Trust's latest school in development is the Grace Garden School in Bristol which is on track to open at the beginning of May. There is currently a pipeline of 40 pupils. The school will start with 4 pupils. Through the commitment and work of Elisabeth Johnson as Project Manager, and the diligent work of Tara Gratton, Director of Schools & Rise, Francesca Meynell, Executive Principal, Edwin Rhodes, Deputy Headteacher and Peter van Vliet, Biodynamic Land Manager, the school is progressing well. We are now waiting for an Ofsted pre-registration inspection, expected to take place in March.
The team at Grace Garden School have also been undertaking some new research into the integration of biodynamic land as a learning context, with educational principles informed by Steiner and PSTE, whilst also being supported by anthroposophic medical insights. This triage of insights has been acknowledged as the 'Kolisko impulse'. The Trust is keen to explore these three key fields of practice within PSTE to inform a deeper insight for the development of therapeutic education in schools. The Genius Loci audit on the site of the Grace Garden School, previously known as Cherry Orchards, is also in process. The Genius Loci audit will have the effect of supporting the discovery of the place and contributing to the re-imagination of the potential of the place.
We are delighted that the Coach House at Brantwood School has recently had confirmation from an Ofsted Social Care monitoring visit that it has maintained its Grade 2 rating of 'Good'. Eric Knutsen, Headteacher, writes that "there was 'no decline in service' discovered throughout the inspection". This is a particularly successful outcome as the Coach House has been providing care under the current challenging Covid restrictions.
In spite of the excessive wet/snowy weather, great progress is underway with regards to the new Wool Barn at Ruskin Mill College. The Trust is planning to hold a weaving workshop in the Wool Barn in July with all cross-Trust weavers, felt makers and interested colleagues.
The timber frame for the new Wool Barn at Ruskin Mill College
Across the Trust, Candlemas or Imbolc is an opportunity for schools and colleges to celebrate the first marker of spring. The light has noticeably started to return. Early plants, such as snowdrops and daffodils, are emerging as the sun is now halfway between the Winter Solstice and the Spring Equinox. In time, this festival could grow to include the making of beeswax candles as beautifully shown by students at Ruskin Mill College. Like all festivals in the Trust, they generate a sense of community, celebration and identity.
We would also like to celebrate John Ruskin's birthday which was on 8th February, sharing with you one of his drawings entitled Storm clouds and the Sea of Ice, maybe metaphorically and meteorologically spot-on.
*Image*
On behalf of the Executive Team and the trustees of Ruskin Mill Trust, we would like to thank you for your tireless work in support of the Trust's young children, students and adults.
Ruskin Mill Trust Winter Newsletter
Highlights from 2020
An Introduction
Dear Colleagues
As soon as the New Year 2020 moved into Spring, our circumstances for regular learning and social gatherings changed and new developments required entirely new attitudes and practices for all students, staff and operational leaders. The pandemic required careful planning and detailed day-to-day management for the safety of all concerned in which the delivery of education and care could continue responsibly. Nevertheless, with these challenges, the Trust demonstrated that all our provisions could remain open due to the exceptional commitment of staff and the cooperation of pupils and students.
It would be correct to say that our learning extended even further into the world of nature. All provision and care leaders rose to the occasion. It was a further example of how the Practical Skills Therapeutic Education curriculum is resilient and meets the needs of students. The Central Services teams, in particular Health and Safety, Residential Services, Human Resources, Admissions, Safeguarding and IT worked together in providing the support structure which enabled the Trust to successfully navigate through our current challenging times.
The Executive Team worked tirelessly with great vision, to ensure that children and students were provided with the appropriate care and learning, whether at home or in school/college. Kimberly Downton, COO, provided exceptionally skilful and intelligent work in interpreting and actioning government updates, working closely with the Directors of Colleges and Schools – Oliver Cheney and Tara Gratton.
Our training department, HEaRT, also rose to the occasion and again had to re-think how training is delivered. Many new initiatives arose, including webinars. Aonghus Gordon presented 12 one hour long webinars, on a weekly basis, giving insights to the 12 senses. These were attended by up to 200 staff at a time.
The biodynamic land managers cooperated in ensuring that biodynamic preparations, compost routines and sprays were attended to. Dates were given in advance so that those who wished to could follow the process in their thoughts to support the regeneration and vitality of the soil, the environment and ultimately the quality of the food produced.
Pupils, students and staff were able to adapt, thanks in part to the sunshine for nearly two months. The weather enabled our education to be largely conducted outside, whilst our carers provided warmth, support and nurture for those children and students in our residential centres.
It is a delight, as always, to share our Newsletter with international friends and colleagues at this time of year. Our Patron, Trustees, Friends, Funders and Donors receive this Newsletter and we would like to thank them for their tireless support and dedication in ensuring the vibrancy of the Trust's vision, values and method so that learners thrive and develop.
As Michael Madigan, Ruskin Mill College Counsellor, framed the situation, "for community to shine we need common unity". This insight and practice rang through the Trust during Spring and into Summer. The Trust's gardens and farms basked in sunshine. Children and students breathed out and participated in the tasks at hand. Fruit blossomed and flowers bloomed and ripened early.
Lambs were born, supported and nurtured by pupils and students. Everyone stepped up to the task.
Working with the Land
The following poem by Patrick, a Ruskin Mill College student, may sum up how students experienced on a deeper level being immersed in Nature herself.
The Power of Nature
From the moment I walk into the valley I feel a sense of adventure. I feel the winter's breeze as cold as the Arctic and it makes me shiver like I've had strong coffee. The grass and the flowers give me a sense of direction and the flowers' blossoms fills me with joy and laughter. I let go into the wild. The torch of life and shiny gold light gives me a new mission. The power of the glorious trees talks to me about my feelings and gives me comfort so I can go on. But when rain hammers down and the thunder glazes out with lighting it makes my anger boil over like a burning piece of salmon. But when the rain turns into a pitter patter I feel myself go in to a lighter mood again. My love for nature helps every day and without it would feel like meeting a stranger. The power of nature is in our hands, we just have to put our trust in it.
By Patrick, RMC student.
Right across the Trust, learners moved their classrooms into the outdoors, including pupils at Sunfield who, along with staff, planted out vegetable beds. Role modelling from staff brings forward new opportunities for our learners, not only for healthy eating but also in applying numeracy and literacy skills to these tasks.
As the season developed, the children at Sunfield encountered and nurtured the new-born lambs, whilst at Vale Head Farm, students from Glasshouse College tended the goats to provide milk for cheese.
Working with crafts.
As the late Spring and early Summer progressed, student craftwork excelled outdoors and flourished. New workshops were opened, such as the iron forge at Eyam. The blacksmith's workshop draws in students to be highly focused and attentive whilst standing solidly with their hand ready to strike the hot metal into hooks. 'Striking whilst the iron is hot' brings this proverb into an educational and therapeutic context and reality. In this regard, the three dimensions of space become filled with intent, motivation and self-regulation. More recently, experimental work at Eyam for Brantwood School pupils led to the creation of a copper bangle, as seen above.
Just as the public health crisis of 2020 started to unfold, Kayleigh joined Argent College and she has been carving out a future for herself ever since. Her personal qualities of determination and courage have come to the fore and have contributed to Kayleigh being able to work towards and attain her goals.
Kayleigh is surrounded by a canopy of verdant green. She is immersed in woodland sense, birdsong and mottled light. Learning opportunities such as Kayleigh's offer the Trust's students deescalation of anxiety in which their movements coordinate through simple implements such as the shaving horse, where they prepare the billet to be placed on the pole lathe to form one of three legs for a stool.
Angelica weaves a design on the frame loom. The colours that Angelica uses have been dyed using plant dyes from the new plant dye garden, set up by Anna Willoughby at Gables Farm, Ruskin Mill College. This plant dye garden will, in time, develop to generate a new social enterprise of wool dyeing, through the reimagined Gables Farm shop. Direct and vibrant colour from plants offers an immersion of emotional stimulation for pupils and students. With this in mind, a new biography and colour course is being launched this spring for both staff and external applicants. Please see A Journey of the Soul into Colour
Ruskin Mill Trust's method of Practical Skills
Therapeutic Education works in a fourfold way
One of the key ideas that Ruskin Mill Trust works with in each of its centres is the principle that transforming material in practical activities, such as craft, can help to transform the whole person. It does this through its method of Practical Skills Therapeutic Education. Practical Skills Therapeutic Education uses the simple but profound model of hand, head, heart and place, to explore the benefits of an individual's development. Each of the articles in Run of the Mill bears testimony to the positive transformations that working with hand, head, heart and place can bring to our pupils and students.
Many of the Trust's children and young adults have a compulsion to use their hands to create. This is well known in child development. To extend their hands into meaningful play and eventually into skills that serve both themselves as well as domestic and societal needs, stands behind one of the deeper intentions of the Trust's work. To meet the resistance of material and apply one's innate sense of creativity to shape and form contributes to overcoming barriers to learning. To reflect on what has been performed – Head – and to be open to changing and adapting one's skills for further development enables both children and young adults a degree of freedom to learn out of experience. The object is to provide simple items of civility. The surprise of appreciation that may be witnessed on the faces of children and young adults still further encourages motivation to develop and contribute. The emotional impact of appreciation by third parties towards students and children regarding their success is slow but steady work in introducing them to new-found experiences of success. They then can find their place and a sense of belonging either in the school, college or world at large.
Working with Social Enterprise
Staff at Freeman College have been thinking collaboratively and creatively about how to provide meaningful work experience opportunities to students during the pandemic. Currently, external work experience placements are either not open or unable to have students due to social distancing or reduced working hours. Connecting with the wider community is so important for our students as it provides them with a compass with which they are able to orientate themselves in the world. How do we offer opportunities for our students to engage with and give back to the wider community when everyone is in lockdown? One of Freeman College's answers has been to contribute to a local emergency food parcel and community kitchen.
Three new projects during 2020
gracegardenschool Bristol, opening May 2021
Opportunities emerged in early 2020 regarding the potential sale of Cherry Orchards Camphill site near Bristol. The Trustees of Cherry Orchards approached the Trustees of Ruskin Mill Land Trust and heartfelt negotiations emerged. This eventually led to the 18-acre Cherry Orchards site being acquired by the Ruskin Mill Land Trust on 10 November 2020. Ruskin Mill Trust and Ruskin Mill Land Trust would like to thank the Cherry Orchards' Board of Trustees for their warmth and goodwill throughout the entire negotiation process. The proposed Grace Garden School initiative has been submitted to Ofsted for approval. We hope to open our doors on 1 May 2021.
The overall project is being ably managed by Elisabeth Johnson, working closely with Tara Gratton, Director of Ruskin Mill Trust's schools. We have already welcomed provisional parents, met with our board of Trustees for the Catherine Grace Trust, held a significant partnership meeting with the Helios medical foundation (to braid the medical, biodynamic and educational offer), as well as completed our first Genius Loci audit.
On Friday 4 December, a small team (due to Covid-19 restrictions) gathered. We began and ended the day with the eurythmy Halleluiah, in part to bless the site. We met to present and discuss our findings about the mineral element of the land – including reflections on the geological survey, with soil samples, rock and stone investigations and insight into the local waterways. The team explored the site individually, taking time to walk in the stream, explore the woodland of young yews, meeting the space, the animals and acknowledging our experiences and impressions of what we found. These impressions and insights build our capacity to draw innovation and curriculum for the children.
The Catherine Grace Trust will oversee the operation of the Grace Garden School and we continue to celebrate the fruits of this collaboration, through which the Catherine Grace Trust has made substantial resources available to enable a new vision for Rudolf Steiner special education in Bristol to emerge.
colegty'reithin near Swansea, opened September 2020
Ruskin Mill Trust would like to thank the Trustees of Ty'r Eithin for their generous donation of Ty'r Eithin farm and land from which we have registered a new FE provision. The doors of this new college, near Swansea, opened in September. Through dedication from senior leaders from Ruskin Mill College and Coleg Plas Dwbl, ably led by Tara Gratton, pupils gained funding and transferred, where necessary, to create a small team of five students to grow this new college.
Paul Garnault, Director of PSTE (Wales), along with Ian Clements, Project Manager, managed the site renovations and grew educational ideas out of the first genius loci audit. This audit is still in progress and will support further innovation, particularly in understanding more deeply the animal, plant, rock and soil opportunities for curriculum development and strategic direction.
Architect Nic Pople has been instrumental in bringing together the original work of Christopher Day for the site. The students have found a deep connection to this initiative. Eva and Christopher Dry moved from South Africa, with Eva taking up position as Biodynamic Land Manager. Eva and Christopher have many years of experience in community and biodynamic leadership. The biodynamic vision has been led by Laura Wallwork and continues to support the growing vision for this substantial farm enterprise in providing educational experiences through Practical Skills Therapeutic Education as well as the supply of biodynamic vegetables to the community.
The curriculum at Ty'r Eithin will draw on many of the insights from the Genius Loci, but will build on the work of Tony and Sue Matthew who with their trustees generously passed the farm to the Tir Ceridwen Land Trust.
trigonos North Wales, social enterprise and conference centre
At the turn of the new year, Ros Tennyson, Richard Grover and Judith Harris, the founders of Trigonos, a social enterprise, conference and hospitality initiative, approached Ruskin Mill Trust - through Paul Garnault - to consider how the two organisations might collaborate with a longterm view for Trigonos to join the Ruskin Mill Trust Group. This year, amongst the many challenges of the pandemic, a new Board of Directors, drawn from senior staff of Ruskin Mill Trust, took responsibility for Trigonos to begin this process. Trigonos is located in the Snowdonia National Park and indeed provides a unique experience of inner development, sanctuary and reflection.
The first task of the new Board was to appoint a Biodynamic Land Manager to manage the 18 acres of land. I am very pleased to confirm that Sean Murphy agreed to take up this position. In time, the Trigonos estate will be transferred into Tir Ceridwen - the Welsh Land Trust, a subsidiary of Ruskin Mill Land Trust. The operations will continue as the Trigonos social enterprise.
Currently, Trigonos continues to provide facilities for overnight conferences, workshops, retreats and research opportunities. There are, however, a number of significant opportunities for students across the Trust at Trigonos. The Board of Trustees of Ruskin Mill Trust are delighted that Oliver Cheney, Director of Colleges and Rise, and Alex Griffin, Principal of Glasshouse and Argent Colleges, have agreed to assume responsibility for bringing students to Trigonos from across the Trust to use the remarkable facilities of this site for their future development and qualifications, in particular in areas of hospitality and catering.
The Ruskin Mill trustees would like to thank Ian Clements, Ruskin Mill Company Secretary, and Paul Garnault, for their skilful diligence and commitment in supporting Trigonos towards its next step.
The new Wool Barn at Ruskin Mill College
The Trust's weaving curriculum is being given a new boost this year with great progress in the construction of the new Wool Barn. Not only will the Barn provide a bespoke new teaching space for weaving, it will also provide bespoke dyeing facilities for the College's plant dyer, Anna Willoughby.
To celebrate the opening of the new Wool Barn a week-long weaving workshop is planned with weavers from across Ruskin Mill Trust, including colleagues from Norway and Crete who will share their experience and skills. The workshop will share learning from Caitlin Bently (Ruskin Mill College weaving tutor) and Tamzin Titford-Mock (Glasshouse College senior tutor) visit to Crete in July to see Anja and Michalis Monousakis in Chania. It will also celebrate the embedded learning opportunities for both formal and informal learning with regards to numeracy. A presentation by Paul Garnault will illustrate how the silk weavers of Lyon in 16th century France applied the binary system from China in the manufacturing of silk. The implicit demand from hand loom weaving that generates the power of concentration and attention on the part of the weaver is also a growing research topic (particularly our growing neurological research) for the Field Centre; another way the Field Centre may ensure a contemporary understanding and knowledge underpinning the curriculum.
Awards and fundraising 2020
The fundraising team is pleased to have successfully supported some great new initiatives across the Trust this year. Sixty different trusts and foundations gave grants this year, plus we received numerous donations from organisations and individuals, including legacies and gifts in memoriam. A young relative of a Sunfield student shaved his head and raised £1000 for the school.
Key highlights
The Hive Café and Bakery in Birmingham's Jewellery Quarter won Gold at the national 2020 VisitEngland awards. During an online ceremony, the popular community hub claimed the top prize in the Ethical, Responsible and Sustainable Tourism category, recognising tourism businesses committed to being sustainable, responsible and ethical in how they operate and interact with customers, the wider community and the environment. The construction of the Wool Barn at Gables Farm is finally underway and we are still approaching more funders to get it completed and fitted out next year. We would particularly like to thank the Sedbury Trust, The Sterling Charity, Joanies Fund, and the Worshipful Company of Woolmen for their generous support. Gables Farm has also benefitted from a new (second hand) tractor and farm equipment funded by the Albert Hunt Trust, Jack Lane Charitable Trust,
Renishaw's Charities Committee, The Rowlands Trust, Percy Bilton Charity and The Ammco Trust.
We are very grateful for the support of the Peter Harrison Foundation, The Laing Family Trusts, Geoff & Fiona Squire Foundation and the DM Thomas Foundation for the lovely new hall at Brantwood School. Vale Head Farm has a new composting zone, vital for enriching the sandy soil in Kinver, funded by The Cadent Foundation and the P F Charitable Trust. We are delighted that the project is featuring as a case study in the Cadent Foundation Annual Report.
There has also been generous support for the establishment of Coleg Ty'r Eithin with a new greenwood workshop and equipment for willow weaving, felting and the forge and bee keeping equipment. Our thanks go to the Alpkit Foundation, Tesco Bags of Help, DPD Eco Fund, Ironmongers' Company, Oakdale Trust, Waterloo Foundation and the Dwr Cymru Community Fund.
The Fold Army Family Centre at Clevaux has also benefitted from the continued support from the Army Central Fund and the Army Benevolent Fund, and courses funded by North Yorkshire County Council. The official opening was delayed due to Covid, but activities have now resumed with plans for a celebratory launch next year.
King Arthur Production
Ruskin Mill Trust is commissioning Peter Oswald, who has previously worked as a writer at the Globe Theatre and who was previously commissioned to write a play on the Temple Legend, which toured the Trust and other communities, to write a new contemporary King Arthur play.
Peter Oswald has been working with students and staff to write a new narrative of the mythology whilst drawing insights from different Trust centres and students. The play will be performed in the summer and outdoors under simple canvasses. In the first year, performances will take place at Coleg Plas Dwbl in Pembrokeshire, Cherry Orchards in Bristol, Ruskin Mill College in Gloucestershire, Vale Head Farm, Stourbridge and Sunfield, Clent. We have also received performance requests from Rudolf Steiner House in London and the International Biodynamic Research Conference at Cirencester Agricultural University. The following year, performances are planned to take place across the provisions in Sheffield and at Fairhill, Scotland.
King Arthur centres on the themes of chivalry and courage in overcoming fear, the latter having particular resonance for our current time. Our students have to summon remarkable courage to meet their destinies, their tasks and to overcome significant challenges. It is often thought that King Arthur lives in the British landscape, hence the number of place names of Arthur, and that in times of challenge, his spirit can enter the national debate for courage. We are very grateful to
Peter Oswald and are pleased to have received the first draft.
Festivals
Ruskin Mill Michaelmas Celebration
On the 29 September we had our Michaelmas Festival, which we have every year. However, this year it was different and, because of Covid-19, we could not all be together, so reverted to small groups. We all wrote down our challenges on a piece of paper to post into a dragon's mouth to be burnt later.
Two members of staff did a dragon chant, as if appeasing the dragons from ancient times. Sir 'Markmas' (Mark), rode his horse bike on the grass and bravely tamed the dragon with his taming stick. Alex also had a go at taming the dragon outside the shop. Tutor Richard Turley told a story about Michaelmas and then we went to have some apple juice from a barrel. The juice was from the apples that were picked and pressed from the valley orchard. But, here's a little secret…in Horticulture they mixed beetroot into the apple juice to make it look like dragons' blood!
Advent Spirals
Advent was celebrated with an advent spiral in the all our centres. Everyone lit their own candles and spent some time in quiet reflection and listened to advent stories.
Advent News from Ruskin Mill Trust Schools sunfield clent, near Stourbridge
Head of School: Chris Lore and Director of Schools and Rise: Tara Gratton
One of the key areas of development for Sunfield in the past year has been the delineation of the pathway for students to leave Sunfield to attend Glasshouse College. For many of the more able Sunfield learners, this would seem like a natural progression.
In his final year at Sunfield, AW began visiting Glasshouse College for "taster" sessions with the support of a familiar teaching assistant from Sunfield. He quickly felt right at home in the Glasshouse environment, joining in felting sessions and drama and extending his days at the college to two a week. AW was able to recognise that he needed "practical" activities and that being outdoors helped him to keep calm. He also described how having his day and residential placement as part of the same team was key, and very much disagreed when the local authority representative tried to convince him that it would be better for him to attend an alternative local college and stay in supported living.
Perhaps most impressive, AW has overcome his fear of bronze casting and has recently been able to pour molten bronze from the furnace for the first time. He reported that it made him feel "very proud of himself as I was able to do it at last".
brantwoodspecialistschool Sheffield
Head Teacher: Eric Knutsen
Brantwood School continues to thrive and, this academic year its maximum capacity of 50 pupils has already been reached. Children are enjoying the diverse curriculum through the creative work of the senior team who have been able to find an increasing number of outdoor learning initiatives.
There have already been a number of very significant achievements such as the opening of the new blacksmith workshop at Eyam and a further extension of the curriculum and garden. In summer 2020, eight students were entered for GCSEs at Brantwood across eight subjects and all students achieved GCSEs. 90.5% of students achieved Grades 4 – 8. Two of the students who achieved GCSEs took them a year early in Year 10! The subjects that students achieved
GCSEs in are:
- English Language
- English Literature
- Mathematics
- Chemistry
- Combined Science
- Citizenship
- History
- Japanese
News from Ruskin Mill Trust's Rise offer
clervauxrise Darlington
Clervaux Rise continues to grow with the new purpose-built facilities adjoining the Fold. Adults engage in farm work, particularly support for the animals, led by Gilberto. They also take part in day activities in which they develop further skills in independence and training. In more recent months, there has been a significant rise in applications for adults to join this programme. A significant feature of the Trust's Rise programme is that the opportunity is funded by Health and Social Care.
Fairhillrise East Lothian
A new polytunnel was recently erected in the snowy conditions of early December. Adults on the programme have been involved with Pieter van Vliet and Nick Raeside in reconfiguring the garden and some aspects of the birch woodland. More daylight and opportunities to grow bring daily routines of gardening as a skill, eventually a qualification. The Trust is very appreciative of the appointment of Eric Fleming, Head of Day Services and Sofie Rasmussen who has taken a particular interest in the Fairhill Rise project. We are also grateful for the dedication of Lothar who has been able to support the new practical developments on site.
In September we welcomed Eric Fleming to join the Fairhill Rise provision as full time Day Service Manager. We now have five participants who come and engage in work and craft activities under Eric's supervision and guidance. Work has started in the woodland and garden area in order to create a space suitable for growing vegetables and herbs. We were given a grant by East Lothian Local Authority to purchase a polytunnel which was just erected in six inches of snow at the beginning of December. We all look forward to including another protected working space in the daily work schedule. Staff Training & Development
The Launch of the Ruskin Mill Centre for Practice
Our commitment to the development of our staff's skills and professionalism and our unique position within the education arena, has led the Trust to a significant development. The Trust seeks registration with the Office for Students as a higher educational provision in order to gain Taught Degree Awarding Powers (TDAP). This has led us to launch a new home for HEaRT and our educational programmes, Ruskin Mill Centre for Practice (RMCP). The RMCP will be a higher educational provision, which, in time, will enable us to deliver, validate and award our own degree/s in PSTE. We seek this form of academic independence in order to develop and externally validate our unique methodology whilst offering our staff an internationally recognised practitioner orientated qualification. At the celebration of the Field Centre's seventh anniversary on 25 September, we inaugurated the Ruskin Mill Centre for Practice along with its new logo (see below). The Ruskin Mill Centre for Practice will hold the responsibility for staff training and deliver Level 7 training in PSTE - a Master's degree in PSTE (MEd in PSTE). Collaboration with the University of Gloucestershire is underway to offer us a temporary validation and mentoring service whilst we seek Of Registration.
The MEd in PSTE will critically explore and examine the function and impact of the Seven Fields of Practice. This development will safeguard our method for the future and secure its authenticity and integrity, ensuring our students receive innovative research enhanced practice.
Over 25 staff and external applicants are awaiting confirmation to take up this new master's programme, which should be starting in Spring 2021. thefieldcentre The Trust's research is organised through the Field Centre and currently six PhDs are being undertaken by staff from Ruskin Mill Trust. The areas of study are linked to Ruskin Mill Trust's Seven Fields of Practice. The insights that are generated from this research then come back to reinform training for the 1000 staff who work across the breadth of the Trust. In addition, training courses provide quality assurance for the Trust's method, PSTE, and are delivered throughout the organisation in order to ensure the why, the how and the what are understood in that method.
Research is disseminated and explored through regular seminars that take place on Mondays 4-5pm. At these, the PhD researchers and other research staff share their insights. To date, we have heard from Ricardo Pereira on his PhD proposal for de-commodifying agriculture and Berni Courts on Transferable Skills: How research practice can inform policy. Future seminars include the following: Multimodal analysis of craft sessions; Goethe's elephant and the unity of nature; Pishwanton and architecture; and how participating in craft workshops may enable students to make conscious choices. If you wish to participate in these seminars, please contact Gill Nah Gill.Nah@rmlt.org.uk If our international colleagues would like to participate, they too should contact Gill Nah and myself.
Seventh anniversary of the Field Centre
The Field Centre was launched during Michaelmas 2013, a hundred years after the founding of the first Goetheanum. The purpose of the Field Centre was to research through action inquiry and research Rudolf Steiner's spiritual science that informs Practical Skills Therapeutic Education. Since this date, many new developments have emerged. Many staff have benefitted from a master's degree in special education through our collaboration with Norway. It was always the intention at some point for the Trust to develop its own master's programme.
The 'Golden Triangle' inauguration at the Field Centre, linking the Field Centre with Fairhill/ Pishwanton (Scotland) and the Castelliz Centre (Wales), has taken place this year and has been strengthened by the delivery of our first Goethean science seminar in all three locations. Participation has been high with excellent feedback from participants.
Mark Higgins, Accreditation Manager, has recently completed his PSTE Senior Leaders Induction and presented his reflections to the Executive Team. Mark focussed in particular on his engagement with Field 2, Practical Skills. Mark's reflection centred on the impact of making a three-legged stool.
A short extract from Mark's reflection on Practical Skills: "To look at practical skills I shall focus on craft work. However it is worth noting that practical skills also exist within the land curriculum. The practical skills in which the students engage are purposely rooted in the Genius Loci of the provision. Initially a "descent into matter", the individual should be involved, to the greatest extent possible, in sourcing raw material from its origin (extraction of mineral from the ground for making glass or clay, collection of hedgerow materials and harvesting of organic material for making baskets, felling a tree for green woodwork or collecting animal product for felting and weaving). This could be seen as a reflection of the hunter gatherer tradition."
Goethean Science and Spiritual Science Research
Research into the Seven Fields of Practice, and its theoretical underpinnings, is coordinated through our three research centres in England, Scotland, and Wales. This unified trichotomy is referred to as the Golden Triangle.
Each research centre of the Golden Triangle has its task in the world, based on the Genius Loci of its location. The Genius Loci also informs the research themes through the threefold picture of the human being and the kingdoms of nature.
Ruskin Mill Trust's method of Practical Skills Therapeutic Education (PSTE) is informed by three paradigms: pedagogy; Rudolf Steiner's spiritual science; Goethean science. It is subject to ongoing external and internal critical evaluation.
We recognise and celebrate our unique position in education, in offering a land and craft-based curriculum that is imaginative, exciting and of service to the community. However, to achieve this we must also be committed to our staff's skills and professionalism. This is why the Trust greatly invests in continuous professional development to help staff in their pursuit of greater impact for our young people.
Ruskin Mill Trust, in association with the Field Centre and our researchers, offers a portfolio of taught programmes aimed at supporting the development of the whole human being through an interdisciplinary approach situated in professional contexts.
More importantly, all our training is in service - to develop staff capacity for the benefit of children, students and young adults.
International Visits and Developments
Shanghai, China – Growing Land, Growing People (Ruskin Mill method) - November 2019
Ruskin Mill Trust delivered a training in Field 4, Therapeutic Education, in Shanghai at a former children's orphanage.
The week's workshop, coordinated by Aonghus Gordon and Richard Tucker, was well attended. Richard delivered practical and insightful workshops/seminars on the Trust's Seven Care Qualities drawn from Rudolf Steiner's Seven Life Processes.
Sekem, Egypt - December 2019
Ruskin Mill Trust was invited to attend the world forum of social initiatives in Sekem in Egypt. Joe Moore and Aonghus Gordon presented a combination of talks and workshops. There was particular interest in the practical clay workshop which focused on the principles of transformation and change. A distinctive element of the workshop was the use of Nile clay drawing on the genius loci of Sekem. Attendees of the workshop engaged in both individual and group social processes of making and transforming.
Kolkata, India – January 2020
Ruskin Mill Trust was asked by Suresh Somani, CEO of the India Autism Centre, to present at the International Conference on Autism in Calcutta. This is India's foremost autism initiative. Sofie Rasmussen and Aonghus Gordon attended and presented the work of Ruskin Mill Trust. Suresh Somani, is part of a growing, group of Indian entrepreneurs, many of whom have direct experience of autism, and wish to offer remediation to the condition. Suresh is investing over £60 million in a new autism centre in Calcutta. He invited other international entrepreneurs to present along with university researchers. An informal association has developed with an exchange of knowledge, and practice between RMT and the India Autism Centre with regards to children's drawings. Covid-permitting, Sakhi Singhi will bring to the UK an exhibition of drawings by Indian children on the autistic spectrum to the Hay Festival, at Ruskin Mill College.
Lautenbach (Germany) Erasmus visit to Coleg Plas Dwbl and Ruskin Mill College – March 2020
The Lautenbach visitors had direct experience of the Ruskin Mill Trust method in the context of biodynamic ecology. A very rich exchange took place with regards to compost building and deeper knowledge shared with regards to a number of biodynamic principles from the Lautenbach farmers and gardeners. The visit took place just before Covid lockdown. The gift of a painting depicting many aspects of ancient British druid culture was deeply appreciated. The visit ended with a trip to Plas Dwbl to see the rocks, sea and sky of Pembrokeshire.
Norway
There are six RMT students on the Norwegian Master's degree course, Special Education - Practical Skills Transformative Learning. They are currently in their third and final year. To the disappointment of the students, the final modules for completion of the second year had to take place by Zoom. However, the six staff are currently embarking on their thesis projects, which are focused on topics that are relevant to the Trust's method.
This year is the final year that Ruskin Mill Trust will co-create a Master's degree with Lillehammer university. This is due to two reasons. Firstly, there was a lack of candidate uptake from Norway and secondly, Ruskin Mill Trust's own endeavour to offer a Higher Degree – see Ruskin Mill Centre for Practice.
The Trust is also pleased to confirm that, with the six staff completing this year, the total number of staff who have graduated with a MA in Special Education in PSTE is 44. The result of this investment in higher education and research is to further enhance the quality of experience for students at the Trust's centres.
Hungary – An Erasmus programme: The Revitalist project
The Revitalist project is now drawing to a conclusion after being extended due to Covid. The final report has been submitted and we are awaiting EU feedback to formalise the ending.
From the partners' consortium view point, this has been an extraordinarily successful project that involved several hundred people in Europe. It has generated a significant degree of awareness and recognition of the deep transformative value of Ruskin Mill Trust's PSTE in the context of social rehabilitation in Eastern Europe.
The work carried out in this project has been officially recognised and certified within the framework of Adult Education in Hungary. This promotes the sustainability of future collaborations that could emerge, should the Trust wish to pursue them. In other words, the seed was planted and it has germinated.
Delegates from:
University of South Bohemia,
Czech Republic
Agricoltura Capodarco, Italy
Szent István University,
Hungary
Wwoof, Hungary
Tiszasas Municipality, Hungary
Diversity Foundation, Hungary
Trustees and the Executive Team would like to extend a warm appreciation and gratitude for the dedication, commitment and unwavering support for children and students during the autumn term. It has been a challenging time, with a high degree of unknowing, with regards to the Covid situation and yet all children, students and adults that we care for and are responsible for, have been kept safe, engaged and continue to learn, to gain qualifications and enjoy their time within the Trust.
Aonghus Gordon and the Executive Team